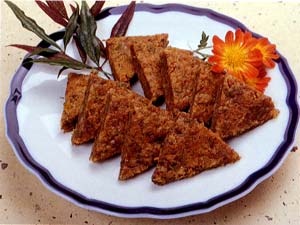 Certification year
1997
Type of certification
traditional Cousine
Main area
Sumita
Introduction of cooking
With snow melting and a small face in warm sunshine, Fukinoto announces the arrival of spring as soon as possible. The rustic taste, which is finished by adding locally produced walnuts and miso to the bittersweetness of back, is full of the smell of the oldness.
material
(For 6 people) Bak (7-8 pieces of radish) 110 g, about 30 g of walnuts, 110 g of wheat flour, about 80 g of miso, 1 teaspoon of sugar, a little pepper, a little oil, water
How to make
1. Make a chopped bag (For salted ones, change the water several times a day and remove salt to such an extent that saltiness hardly remains)
2. Chop the walnuts finely.
3. Add minced meat and flour into miso, flour and sugar, mix well, add water to make the rice cake firm and mix well.
4. Add the pepper to your favorite pungent taste to make it better and mix well.
5. Add oil to a frying pan and bake both sides slowly over medium heat. Slightly burnt and finished. Miso is easy to burn, so be careful.
Cooking point
1. Mainly used as a side dish of rice, such as snacks of liquor. Preservation period ... It is delicious without changing the savory flavor until about 7 to 10 days in spring.
2. Adjust the amount of miso, walnuts and pepper as appropriate.