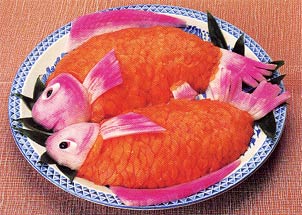 Certification year
1999
Type of certification
traditional Cousine
Main area
Hanamaki
Introduction of cooking
Serve with two tails at a celebration of the celebration event.
material
(1 pair for 20 people with 2 tails) Radish ... 4 (4 to 5 kg), black beans ... 2 pieces, carrots ... 5 to 6 thin ones, green onion ... 1 bottle, vinegar dumpling ... 150 g to 200 g, vinegar ... 2 cups, Sugar ... 2 cups, salt ... a little bit
How to make
1. Shape the head, tail, and spine of the salmon with radish and leave it in salt water.
2. Combine the amount of vinegar and sugar and make sweet vinegar.
Cut the remaining daikon radish into strips into strips and sprinkle with salt, rinse with water and rinse. Chop the vinegar dumplings and add sweet vinegar to the daikon radish and octopus.
4. Ginseng peel off the skin, cut into half-month slices as thin as possible, divide the size into large, medium and small, and add sweet vinegar.
5. To form the cocoon, place the head and tail, and make a form of cocoon with the radish and octopus strips in the visceral part. Slice the ginseng on top of this and carefully arrange in order from the tail.
6. Put your eyes on green onions and black beans, and hold your back in place.
Cooking point
1. Arrange the scales so as to give smoothness.
2. Shape your head like a pair from radish.
3. Ginseng does not use a peeler so that the horns can not be cut off with a kitchen knife.
4. Use red beet and red beet from the season to make red color.

Katsu Acid Kikuchi's "Silver Acid"
Contact Information Hanamaki City Ishitogayacho Daikoji 17-83
Telephone 0198-45-5576
Explanation This is a traditional dish that has been around for a long time, and it is always an auspicious item for home celebrations. Demonstration guidance is limited to the area around Hanamaki.