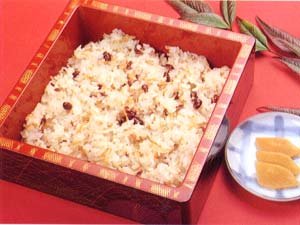 Certification year
1997
Type of certification
traditional Cousine
Main area
Ichinoseki
Introduction of cooking
The protagonist is Kago Yagoshi grown only in Murone town. Because of its strong sweetness, it is often used in dishes such as salads and tempuras in addition to "kabu-sushi".
material
(For 10 people) 1 kg of glutinous rice, 70 g of dried dried oyster mushrooms, 100 g of red beans, 30 cc of sake, 2/3 tbsp salt, 50 g of sugar
How to make
1. Wash the rice well and soak in water for 2-3 hours.
2. Return the dried Yagot Kabuto in lukewarm water. The red beans simmer for seaweed. Mix rice with Yagoshi kabu and red beans.
3. Put a bed on a steamer and steam 2 rice for 30 minutes.
4. Once steamed, pour into a bowl, mix salt, sugar and sake and steam for 10 minutes with a steamer.
Cooking point
1. Yagoshi Kabuto has a unique odor, but when it dries it becomes softer as well as sweetened. Use dried kabutokushi.
2.Yagoshi kabuto leaf is also available. It is delicious even if you hit the sprouts of February.

"Yagoshi kabu cuisine" of the meeting of the tradition of the hometown
Contact Representative Onodera Tomiko Ichinoseki City Murone-cho Yagoshi Tachibana Nezawa 12 3
Telephone 0191-64-3629
Explanation The main dish of Kabu-kabu is tempura and salad etc.
Related site http://www.iwate-syokuzaiclub.com/shokuzai/data.php?n=113