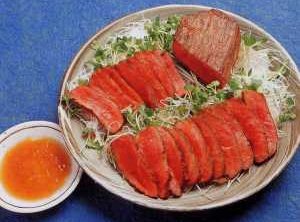 Certification year
2001
Type of certification
Specialty products
Main area
Iwaizumi
Introduction of cooking
Charcoal grilled from Izumisen's short-corned cow thigh meat with Iwasen's charcoal and chilled with ice water.
We eat with wasabi dressing from Iwasen.
material
(For 5 people)
Short horned cow thigh block ... 300 g
How to make
1. Remove the block of meat and thin film, and shape it to a size that can be easily eaten along with the fiber.
2. Make charcoal on a stove for grilled meat, 7 rings, etc., and put a wire mesh on it to make it hot. In a long flame, turn upside down and burn until it is burnt and dark in color. (Around 5 minutes)
3. Put the baked block in cold water (ice water) and let it cool for 1 to 2 minutes. Wash with a light touch so as to lightly burn the surface, and cool the surface.
4. Vacuum pack and keep refrigerated. It can be stored for a week.
※ Ue, using the lean meat of the thigh, adjust the size, thickness of the shaping by the block.
how to eat
・ Put a wisteria with radish and radish on a plate.
Cut the meat into thin pieces of about 5 mm and eat with wasabi dressing.
※ Combine with seasonal vegetables and vegetables such as radish, cabbage and green pepper, and eat with wasabi dressing.
Cooking point
1. Be careful about how to bake. While burning the surface, let the fire through to leave the red meat inside.
2. Chill with ice water.
3. Charcoal uses the high quality thing from Iwasen.