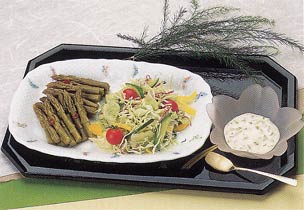 Certification year
2000
Type of certification
Specialty products
Main area
Kitakami
Introduction of cooking
Pickled pickled boiled asparagus in spice vinegar with wine.
material
(For 30 people)
Asparagus-1 kg
[Pickles (spiced vinegar)]
Vinegar (brewed wine) ... 3 cups, white wine ... 1 cup, sugar ... 1/2 cup, salt ... 2 tablespoons, try black grains ... 1 tablespoon, 2 tablespoons red pepper ... 2 to 3 bottles, bay leaves ... 4 to 5 Sheet
How to make
1. Peel the hard part of the root of asparagus, put salt in boiling water, harden and expose to cold water.
2. Combine all the ingredients of pickled soup (spiced vinegar) and simmer and then cool.
3. Remove the cold asparagus water well, put it in a container, and pour 2 cold pickles. The taste gets soaked in about 3 days and it becomes delicious.
Cooking point
【Point of technology】
1. Increase your time with your heart and mind to get rid of asparagus.
2. Once harvested, process as quickly as possible. (In which the fiber does not harden)
3. The better the wine, the more rounded the taste.
[Point that we devise]
1. Asparagus pickles are used in salads, sandwiches, curry and rice, etc.
2. Vacuum and sterilize and store in cold storage. It can be stored for 3 months.

Takahashi Masako's "Asparagus pickles"
Contact Kitakami city Waka-cho great grandson 5-68-3
Telephone 0197-73-5134
Explanation Deliverable demonstration anywhere in Iwate Prefecture. Reservation required 3 days in advance.