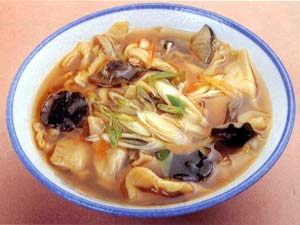 Certification year
1997
Type of certification
traditional Cousine
Main area
Karume town
Introduction of cooking
I often make it when I ask for alternatives to farming, helping with farming, and when I have a little shortage of rice.
material
(7 people) 500g flour, 1 egg, 1 tablespoon food oil, 1.5 cups of water, baked dried river fish or 1 each chicken, carrot, burdock, other seasonal vegetables, green onion, soy sauce
How to make
1. Break the eggs, add food oil and water and loosen with a whisk.
2. Put the flour in a bowl and stir it while adding the egg solution of 1 while stirring. Knead it for about 15 minutes, and divide it into 5 pieces and round it.
3. Take the soup stock with grilled and dried river fish or chicken, and add the seasoned carrots, steamed and drained burdock, seasonal vegetables, and make sauce.
At a place where 4.3 is boiled, stretch 2 mochi thinly. Add green onion to finish and improve the taste.
Cooking point
1. How to add egg solution and knead points.
2. If you knead well, it will spread well immediately, and the juice will not melt.
3. Knead one night and get better.
4. It is convenient to keep this mochi in small portions and store it frozen.