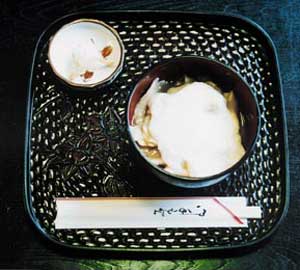 Certification year
1996
Type of certification
traditional Cousine
Main area
Hiraizumi
Introduction of cooking
Hachito cuisine has been made as a daily meal, and there are many cooking methods as well as mochi dishes. Tororo Hachio is one of them.
material
(5 people) Hachito ... flour 500g, water 260 ~ 270cc, soup stock ... 4 liters of water, broth kelp as appropriate, daikon 300g, carrot 100g, burdock 100g, long green onion, miso or soy sauce as appropriate, grated Put some salt and mix it)
How to make
1. Knead flour with a quantity of water. Sprinkle starch on the surface, put in a plastic bag and let go for more than 2 hours. (In summer, put in the vegetable room of the refrigerator)
2. Add soup stock of kelp, soy sauce, carrot, burdock to 4 liters of water.
3. Boil daikon, 4 parts of carrot, half a half of burdock, 3 parts of green onion. Slowly simmer until 1/2 and take out the root vegetables.
4. Taste with miso or soy sauce.
5. Spread the batter you've put in as thin as possible with both hands and break it into pieces. (Be sure the soup is boiling)
6. When Hakuto is lifted, put it in a bowl and put it in a bowl.
※ You may put vegetables in the soup stock as appropriate. In that case, put the tororo in the bowl and put up Hachito on it.
Cooking point
1. After the dough is milled, it is turned for 2 to 8 hours to pull out the gluten of the flour.
2. Dip the dough into a boiling water or soup and thin it with both hands.
3. Boil the root vegetables slowly with the soup and pull up the root vegetables when the juice is halved.
4. Tororo Hachito is a root-cooked dish, not using meat, fish or vegetables.

Ishikawa Toru's "Tororo Hachito"
Store name JA Iwate Minami Furusato Center "Kori Sato"
Place Hiraizumicho Hiraizumi 字 34-13 JA Iwate Minami Furusato Center
Telephone 0191-46-4850
FAX 0191-41-4821
Business day / Business hours 9:00 to 17:00 Reservation system
Regular holiday Late November-Tuesday of mid April
Explanation Cut Hachito 500 yen, substitute Hakuto 300 yen, soup Hakuto 500 yen, Hakuto set meal 1,000 yen. 6 or more. Reservation required 7 days in advance.
Related site http://i-agri.net/agri/?itemid=2922