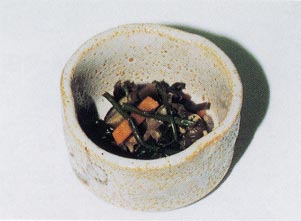 Certification year
1996
Type of certification
Specialty products
Main area
Kanegasaki
Introduction of cooking
It is a pickle made with plenty of seasonal vegetables, mainly cucumber.
material
Salted cucumber (desalted) ... 5 kg, carrots ... 5 to 6 in, gobo ... 2 in 2, kelp (stem kelp, simmered kelp is also acceptable) ... large bag 1, rooted ginger ... 500 g, chorogi ... 500 g ... 800g, Kikumo ... 500g, Shikonomi ... ... appropriate amount, red Nanban ... 3 seasonings, soy sauce ... 1.0 to 1.5 liters, jarred ... 1kg, mirin ... appropriate amount
How to make
1. Remove excess salt and finely chop cucumbers.
2. Ginseng, burdock root, root ginger, chrysanthemum chopsticks.
3. Cho-gi use thin-salted ones.
4. Seeds of the fruit that has been drained, take extra water properly.
5. Cut red Nanban into small pieces.
6. Mix all ingredients well and place in pickle barrels.
7. Put the combined seasoning liquid and weigh it.
You should eat for 10 weeks from 8.1 weeks.
Cooking point
1. The trick is to remove salted cucumbers.
2. Remove excess water.
3. The salted cucumbers are better harvested in August.

Ritsuko Goto's "processing pickled cucumber"
Sales form order sales
Contact Us Life Create Kay Susage Yume Kobo
Place Kanegasaki-cho Nishine Zenkoji 41
Telephone 0197-44-5105
FAX 0197-44-5104
E-Mail lck@rnac.ne.jp
Description Processing of cucumber Pickled product name "Kizamikko" 100 g 250 yen, There are various pickled vegetables of seasonal, such as pickled cucumber ・ pickled pickled cucumber ・ pickled cabbage of Chinese cabbage 100 g ¥ 100 each.