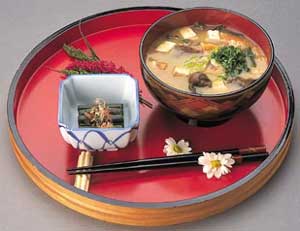 Certification year
1998
Type of certification
traditional Cousine
Main area
Nishiwaga
Introduction of cooking
Natto soup is a regional dish that boasts a warm, snowy country. In addition to natto, it is also passed on to include sardine, bracken, pickles, and tofu.
material
(For 5 people) 1 package of natto, 1 small piece of fried deep-fried fish, 150g of miso soup, 1g of green onion, 70g of miso, 800cc of water, 1 / 2g of tofu, 1/2 of carrot, 80g of bracken, 80g of pickled vegetables, and dried out 5 to 6 (※ mushroom, brackens use salted ones)
How to make
1. Put natto in a mortar, smash it well with daikon radish, add a little miso from the amount and crush it.
2. Make a simmered broth. (Slightly thicker than normal miso soup)
3. Sautéed sardines, bracken, pickled vegetables must be salted out to a slight degree.
4. Carrots are minced, deep-fried tofu, shredded tofu, 2cm long for bracken, and finely chopped for high vegetables. Tofu is diced, and green onion is chopped.
5. Add ingredients such as sardines, deep-fried fish, deep-fried tofu, carrots, and high-quality vegetables.
6. Spread the crushed natto until it is simmered with 5 soup, put in 5 pot and simmer, and finally add tofu and green onion. I do not cook too much.
Cooking point
1. When you smash natto, if you use radish, it smashes moderately without getting away. Also, the smell is softened and the taste is improved.
2. Since natto juice is not delicious in raw soup, it is a good idea to use it as a spice and finish with a firm finish.
3. As a ingredient of natto juice, it is also handed down as stuffed with sawa mochi, bracken, pickled vegetables and tofu.

"Natoshi soup" of left grass lady group
Contact 1-143-1 Nishiwakacho (Representative Atsuko Takahashi)
Telephone 0197-84-2120
Description Traditional food that warms you up. You can demonstrate at any place in Iwate prefecture. Performance period December-April.