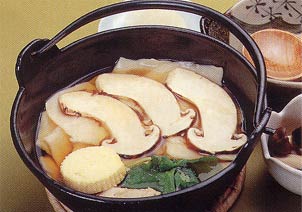 Certification year
1997
Type of certification
New local food
Main area
Iwaizumi
Introduction of cooking
The taste of the soup stock that I examined, the well-kneaded texture, the "scent" of Matsushima unique to Iwaizumi, and the three beats of these three beats together make it a taste of "Hatsutsumi with Matsutake." You can taste it all year round at the shop "Sansui" that you make and offer.
material
(About 10 people)
[Hittsumi] flour (strong flour) ... 1 kg, water ... 600 g
[Dashi soup] water ... 3 liters, thick shavings ... 10 g, flower and bonito ... 20 g, niboshi ... 10 g, serving konbu ... 20 cm, dried shiitake ... 1/5 pieces (hidden taste level), maple (mirin 2, soy sauce 10) ... [Amount] [overlay] Matsutake mushroom ... Appropriate amount, rolled egg ... 10 slices, Mitsuba ... 10 pieces
How to make
1. Put the flour in a kneading bowl and add water little by little while watching the softness of the flour. Knead for at least 20 minutes and give a strong strain. I turn this for about 2 hours.
2. Spread the heat in boiling water and boil it in a bowl. If the heat floats up, take a breath and cool it down.
3. Take a soup stock with shiitake mushroom, bonito soup and bonito. Boil the soup, but after making the taste with the maple, add the matsutake mushroom and add the chilled water with water. Serve with rolled egg and three leaves.
Cooking point
1. Make a good soup stock.
2. Knead well so that the dough is sufficiently stretched and the dough comes out.

"Tatsumi with matsutake mushroom" Kuntoko
Store name Sansui
Place Iwaizumicho Iwasen character Sanbonmatsu 50-2
Telephone 0194-22-3822
Business day / Business hours 11:00 to 15:00
Regular holiday April-November Closed, December-March Every Saturday and Sunday
Description A luxury hitch with a special Imani Matsubara scent. Matsushima Hitsumi 1,800 yen, Matsushima Hitsumi set meal 2,500 yen