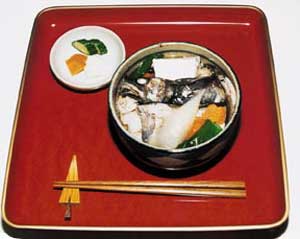 Certification year
1996
Type of certification
traditional Cousine
Main area
Rikuzentakata City
Introduction of cooking
Ezoisoaiame (common name: dumpling), which is often caught on the Sanriku coast, is favored as miso soup and hotpot during the winter when the fat content is high. For Ebisu class on October 20, the ohara calendar, we prepared an odonoki miso soup with kami and prayed for good fishing. This practice continues in the Kesen region. In addition, white and light taste is considered good for postpartum fertilization and has been eaten as a dish of strength recovery.
material
(4 servings) 2 pieces of donko, 80 g of radish, 60 g of carrot, 1 piece of tofu, 2 pieces of potato, 1 piece of green onion, miso
How to make
1. The daikon radish and carrots are large and the potatoes are thin.
2. Boil vegetables.
3. Wash the powder with thin salt water, remove the slime, and remove the scale. Do not throw away the liver.
4. After the vegetables are cooked as in 7 parts, add the fillet and liver and simmer gently.
5. Add tofu.
6. Season with miso and add green onion.