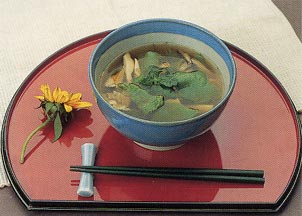 Certification year
2000
Type of certification
New local food
Main area
Kuzumaki
Introduction of cooking
A soup serving as a staple food with fresh green spinach and fresh vegetables and seasonal greens and vegetables.
material
(For 10 people)
[Fabric dough] flour (strong flour: ground flour = 7: 3) ... 1 kg, spinach ... 150 g, salt ... a little bit, water ... 600 cc
[Assorted ingredients of soup] Pork ... 300 g, Deep-fried food ... Large size, carrots ... 100 g, Shiitake ... 50 g, burdocks ... 50 g, Mitsuba, wild vegetables ... As appropriate [Disc] Water ... 5,000 cc, Soy sauce (light) ) ... 50 cc, sake ... 100 cc, Shiitake soup stock ... 500 cc, salt ... 2 teaspoons of sugar, 3 teaspoons of sugar ... dried, dried bonito
How to make
1. After washing the spinach, put it in the mixer, add water and stir.
2. Dried Shiitake is put back in water.
Place the paste-like spinach in 3.1 into a pot. Stop the fire when the spinach comes to a boil and then scoop it up with a spoon to cool.
4. Add flour, water and spinach 3 and knead for about 20 minutes. Be careful with hydration while calculating the water content of spinach. Allow to sleep for more than 2 hours.
5. Boil the hot water in a pot, pour in a thin layer of boiled 4 and put it in a scoop and cold water if it floats.
6. Cut carrots and burdocks into shredded shiitake, shredded shiitake mushrooms, and 3 cm length of wild vegetables. Cut pork into bite-sized pieces.
7. Put water in a separate pot and simmer, take a soup stock with bonito, simmering in a soup and ingredients other than three leaves. Once the vegetables are cooked, taste them with sake and seasonings.
8. Put boiled boiled fish paste and 7 soup into a bowl and serve with 3 leaves.
Cooking point
1. Since spinach is boiled in a mixer, it keeps the bright young grass color for a long time, and mixes evenly with Hitsumi fabric.
2. In the summer season, it is also delicious to eat with vinegar and soy sauce or garlic miso sauce as "cold chilli".

Yoshiko Chiba's "Horitsu's Hitsumi"
Store's name Sanae straight house Hosannaru Restaurant "Himawari"
Place Kuzumaki Town Kuzumaki 39-159-3
Telephone 0195-66-0711
FAX 0195-67-8001
HP address http://michinoeki-fp.jp/cat-ajiclub/1032
Business day / Business hours 11:00 to 16:30
Regular holiday First Monday of each month January 1st-2nd
Explanation Spinach Hitsumi (single item) 450 yen, Spinach Hitsumi (set meal) 700 yen, and straight for 1 person (frozen) for 100 yen.