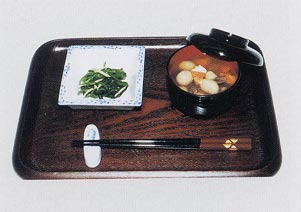 Certification year
1996
Type of certification
traditional Cousine
Main area
Kuji
Introduction of cooking
A variety of vegetables, tofu, and walnuts that are readily available are used, making it a nutritionally desirable dish. Recently, it is eaten as a home event food, and has been established as a home dish of Kuji city.
material
(4 servings) Flour ... 200g, Peel Gurumi ... 30g, Ginseng ... 70g, Burdock ... 80g, Fried Tofu ... 150g, Fried in oil ... 40g, Kanpyo ... 10g, Dried meji ... 15g, Soy sauce ... 45cc, Boiled seaweed ... 15cm, Boiled and dried 5 to 6 pieces, starch powder ... a little bit, salt ... a little bit
How to make
1. Make soup with kelp and simmered in water.
2. Cut ginseng, burdock burdock, deep-fried tofu, rhombus tofu, cut into pieces 1.5 cm in length. Dehydrate dried meji in water.
3. Add a little salt to the flour and knead it with water. Divide the thumb into a large size, put a walnut and round it so that the contents do not go out. (Sprinkle with starch so that the rounded "mamebu" does not stick)
4. Put 2 vegetables in a pot, simmer, boil in a mamebu, soy sauce and salt to make it taste better.

"Mamebu" of Kuji city life improvement meeting
The name of the store Roadside station "White mountain village Yamagata"
Place Kuji Kawai 8-13-14 (along Route 281)
Telephone 0194-72-3210 (Gatagon Planning)
HP address http://www.thr.mlit.go.jp/road/koutsu/roadstation/iwate/iw12.html
Description "Mamebu" is sold frozen. It is also the restaurant of the village product center "Gatagon" and also the menu of Hiraiwa Kogen restaurant.
Related site http://www.pref.iwate.jp/kenpoku/kuji_noukai/denshikan/007427.html