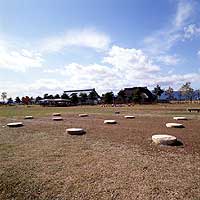 Overview
Tokutan Castle was a castle fence in the northern part of the land in the early Heian period.
Shimon Castle was built as an avant-garde base to the north of Giruzawa Castle, but Shimon Castle was told that it should be moved because it is often flooded close to Kawahama, 2 years (81), Bunmonya Cotton Maro It has been approved.
After that, although the positive history about the abolition of Shiba Castle and the construction of Tokutan Castle is completely lacking, it is estimated that Tokutan Castle was built in 4 years (813) from military action of the conquest of Watanmaro, etc. There is.
Tokutan Castle is located in Tokuda, Yahata-cho, and the scale is approximately square of about 3 sides.
There is a gate at the center of each side of the outer fence, and the scars are also confirmed at intervals of about 200 on the outer fence.
In the inner fence, there are 5 buildings in the east and west, 2 sides in the east and west, and 2 buildings in the east and west in contact with it.
As for the excavated items, a pottery, a suue, a fumen tile and a pillar of the west gate with the four characters of "Yukoku Shirokata" are found.
Tokutan Castle is a valuable historical site with a function as the northernmost avant-garde base of Shijo-fu Gorizawa Castle.