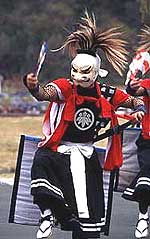 Overview
Among the performing arts called Kenbu, Kenbu dancing with a mask of the form of anger is well known by the name of Onikenbu and has been handed down in central and southern Iwate Prefecture.
It is mainly danced in the house and grave of new Buddha, temples, etc. It is a kind of Nembutsu dance for the purpose of retiring the dead soul that can be danced with Nembutsu song.
As for the content of the dance, the dancers such as those who call about 8 people who got angry with the head of a cattrap with hair of a bird's feather or a horse and who are angry, drums and drums・ We dance while making full use of collection of fan, aya bamboo, sword with the lion of the rose and the Nembutsu song on the back.
In addition, there are characteristics of each song, name, how to play, etc. depending on the tradition.
Oni-ken dance is a very brave and powerful performing arts.
Their elaborate skillful dance and dynamic movements are well-received as one of Japan's leading folk performing arts.