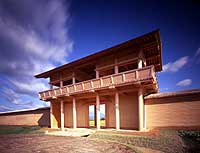 Overview
Located in the southwest of Morioka City, it is one of the three castle fences in the prefecture, built for the management of the Tohoku region in the early Heian period.
Excavated surveys since 1959 confirmed the structure as a castle fence from the existence of outer facilities such as Tsukiji, Sakai and Bund, inner walls divided by Tsukiji with gutters, and a true hall located in the middle, etc. It was revealed that it was the remains of Shiba Castle where the whereabouts were unknown.
Shiba Castle is larger in size than Takijo Iwasawa Castle and comparable to Tagajo Castle (Miyagi Prefecture), and the government is twice as many as Tagajo Castle and three times as many as Miyazawa Castle.
It is thought that this was built with the intention of developing Shiha Castle as a base in the north-eastern north as having the same size as Taga Castle.
However, Shiba Castle was abolished in only ten years by the frequent Sakai Ishikawa fort.
Shiwa Castle is one of the most famous castle fences in Japan as an northernmost castle fence in Japan, and is an important site that is essential to know the actual state of Tohoku management in the early Heian period.
image