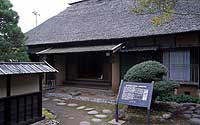 Overview
Column line (frontage) 13.417m, cross beam (depth) 6.363m (current 7.387m).
The roof is a ridge, a roof.
It is a flat-typed four-room plan, but it is believed that there were three hall-type three-room plans and three round independent columns were built in the kitchen and garden.
It is a very simple building, both structurally and on the floor plan form.
At present, there is evidence that the hand-operated part has been expanded with some effort, but in general it retains the old appearance of the lower-class samurai residences well.
Although the author and age are unknown, it is a remains of a valuable samurai residence estimated to be around the early 18th century.